Buy YMGI ductless air conditioners on sale from local dealers. Compare product information on split systems with other HVAC heating and cooling ac units
YMGI W/MITSUBISHI COMPRESSOR - DC Inverter Technology - Low Ambient - upto 60,000 btu Capacity - 5 Zones



ALL SEER 13 - STANDARD UNITS BELOW

9000 BTU

SEER 22 W/ INVERTER & LOW AMBIENT

Starts at $999

Click Here

12000 btu

SEER 20 W/ INVERTER & LOW AMBIENT

Starts at $1099

Click Here

19000 BTU btu

SEER 18 W/ INVERTER & LOW AMBIENT

Starts at $1399

Click Here

AC HEAT PUMP

24,000

Btu 220V, R410A

$1149 CLICK HERE

24000 btu

SEER 18 W/ INVERTER & LOW AMBIENT

Starts at $1599

Click Here
DUAL ZONES
| | |
| --- | --- |
| | Ductless Air Conditioner - DUAL ZONE |

DUAL Zone - AC ONLY- SEER 13- R410A Freon
Will Cool and Dehumidify

DUAL Zone -AC HEAT PUMP - R410A
Will Cool and Heat

DUAL Zone - AC HEAT PUMP + ELEC STRIP
Needed for cities with colder weather (below 25 deg)

YMGI Air Conditioning
Mix & Match For Any Combination You Need

You can combine one 9000 btu Wall Mount unit with two 12000 btu Ceiling Mount for example with YMGI or you can combine one standard wall mount 12000 btu unit with two 18000 btu Mirror Panel from LG Or you can combine two Floor Mount unit 12000 btu with one Ceiling Concealed duct from Mitsubishi. Any Combination is possible now with below sets.
YMGI Mini Split Systems

YMGI Air Conditioning Units for Sale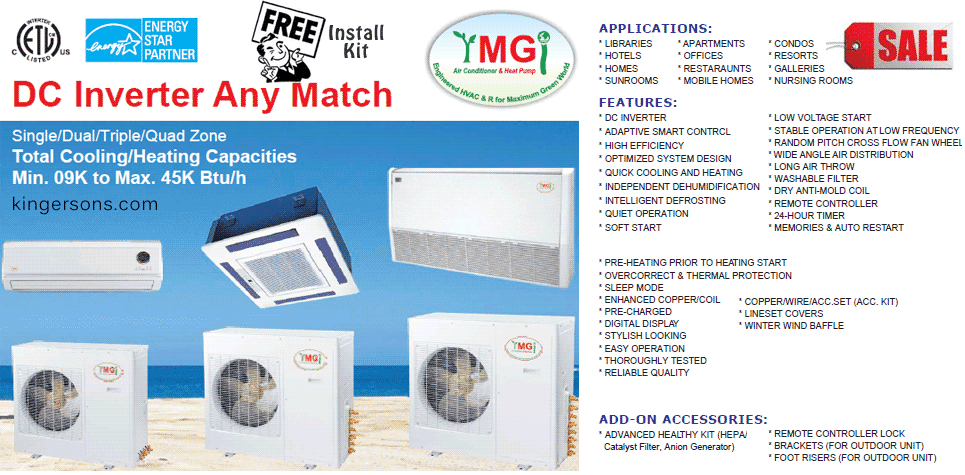 CLICK HERE TO CHECK ALL PORTABLE ROOM AIR CONDITIONERS
| | | |
| --- | --- | --- |
| | | |
Warehouse Locations:
New York, New Jersey, California, Florida, Missouri, Georgia, Texas, Arizona and Canada.

All 100% Authentic Brand New Products

In God We Trust
LOWEST PRICE GUARANTEED! If we can't beat the price, we will give you a product for FREE!!!


mini split air conditioner, split air conditioner, ductless air conditioner, mini split ductless air conditioner system
Copyright 2004 ADVANCE INFOTECH INC. Website Designed, Owned and Maintained by Bhatia International
IN GOD WE TRUST